As promised, but a little late I know – the first post in my series "My WordPress Friends" is here. For those that don't know, I'm going to be posting weekly (hopefully) about all of my WordPress friends. The posts are not going to be long, so don't be looking for a novel – just some information about my friends and what they mean to me.
John Hawkins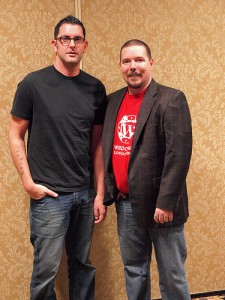 I have to start at the beginning, John was the first WordPress person I actually met in person and it was at WordCamp Las Vegas 2009. I still remember everything like it was yesterday – we just clicked. You can read more about our first meeting here as John has described it in much more detail! John is nothing short of one of the most real, down-to-earth good guys you'll ever meet. If you have the pleasure of knowing him personally you know exactly what I mean, and if you don't then you're missing out.
John heads up 9seeds, a WordPress development shop and is one of the smartest guys I know. I feel dumb talking to him most times but still enjoy it! Our friendship has been through tough times and good but in the end we're still as close as we ever were – if not closer actually.
I can truly say that meeting John changed my life – with the decisions we made together in starting a company and beyond. His family is like an extension of our own and he's truly one of my best friends I've ever had.
John, I love you like a brother dude.